Our mission here at Kingsdown Nurseries is:
'To support people in fulfilling their own goals of value and service to others'.
As a company we believe that our mission should have effect far beyond our staff, our customers and our suppliers.   We want to reach out to people who are in need, to places where poverty and disease are commonplace and remedies rare.  For many years now we have wholeheartedly supported Mercy Ships through personal giving and from Kingsdown Nurseries.   We feel that what Mercy Ships do represents the values of Kingsdown Nurseries in a way that we never could.
In their own words 'Mercy Ships is a faith-based international development organisation that deploys hospital ships to some of the poorest countries in the world, delivering vital, free healthcare to people in desperate need.'  There are countries where healthcare either doesn't exist or is unaffordable to the vast majority of the population and it is to these people that Mercy Ships offer hope.
Every order placed with Kingsdown Nurseries will increase the amount we donate to Mercy Ships this year.  Our current forecast shows that we will donate £10,000 in April 2024.
Join us in supporting Mercy Ships in their vision 'to transform individuals and serve nations through the use of hospital ships.'
Mercy Ships Annual Report 2022
Find out what has been going on at Mercy Ships through the last year as well as learning more about the history of the charity and case studies like four-year-old Kadidja's, who is smiling at you from the front page of the report.
Mercy Ships UK
Registered Charity Number: 1053055 (England & Wales), SC039743 (Scotland)
Company No: 3147724 (England & Wales)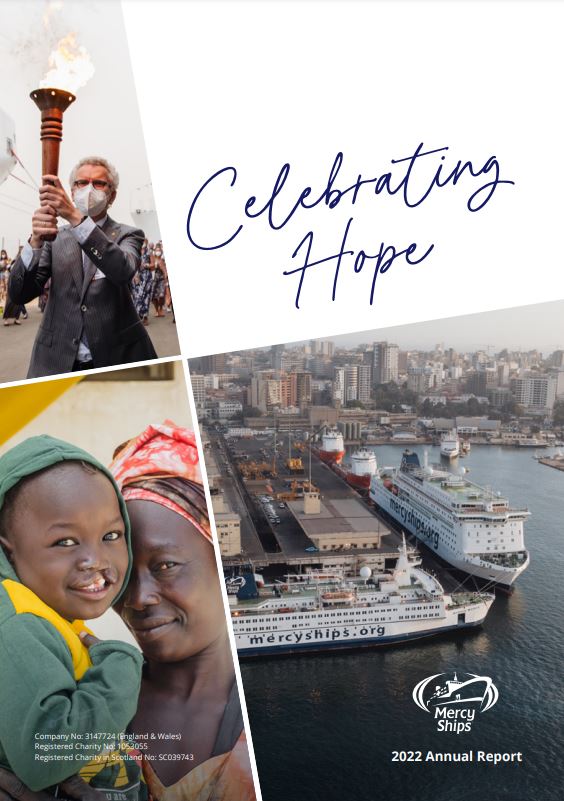 Enquire Direct
Enquire direct for wholesale quality topiary, trees and hedging.
Thank you for enquiring direct.
Please fill in your details below and we will get get back to you with a quotation as soon as possible. Alternatively you can email us with your requirements on sales@kingsdown-uk.com
The Seasonbook
The Seasonbook is a unique publication, unveiling the captivating journey of Kingsdown Nurseries, from our humble inception to where we are today. Discover the artistry behind our seamless collaboration with customers, culminating in the creation and enhancement of Britain's finest gardens. Each page of this masterpiece resonates with inspiration, compelling narratives, and thought-provoking insights that will ignite your passion for horticulture. Don't miss out on this invaluable resource—secure your complimentary copy now and embark on a voyage of discovery!