Our story begins in the heart of the Marlborough Downs, those ancient and rolling chalky uplands where farmers and sheep traders have made a living for ages of time. This is the wild and windswept landscape that shaped the childhood of founder David Whiteside, and where he returned after the Second World War to grow his family business.

Further back still, David's great Grandfather was a captain in the Merchant Navy and ran his vessel and small fleet back and forth across the British Empire trading various goods from far flung corners of the globe.
So, we don't sail ships anymore, trade sheep or farm but we do enjoy working with many of England's finest Garden Designers, Landscape Architects, The National Trust, Royal Parks and Large Private Estates.
Here we are then, half a century later, sailing on… A new generation at the helm but the same pioneering spirit is drawing us ever onward…
Welcome aboard!
Register for a Trade account   Meet the new generation   What we do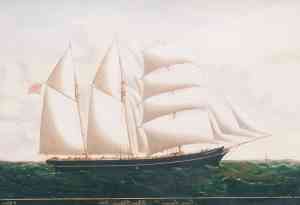 Our mission
Our Mission at Kingsdown is 'to support people in fulfilling their own goals of value and service to others.'   We live and breathe this mission and it has seen us through thick and thin for many years.
We found our mission in April 2011. The family had been in horticulture for fifty five years, Kingsdown was approaching its 20th birthday and nothing was changing much. We needed a new approach. So after some serious thought we employed a business coach. Several lengthy and weary meetings ensued and still we didn't feel much further on.
Then it happened.
The coach arrived for the monthly meeting as usual, ran through the figures as usual, drank coffee and made funny jokes as usual. Then like a startled rabbit he sat up, jabbed his finger at us and said ''The problem with you is you're product centric, not customer centric.'' The penny dropped.
For so long we had put all our interest and energies into the trees and plants we grew and sourced for people while our customers, their needs and desires took second place. Once we had grasped this, coming up with our mission was simple. Suddenly we had focus, a reason for existence, a vision far beyond the end of our noses and most importantly a culture of care throughout the team.
Since that April day in 2011 our mission has been put to test countless times and has proven its great value to our customers, suppliers and people of Kingsdown.
Enquire Direct
Enquire direct for wholesale quality topiary, trees and hedging.
Thank you for enquiring direct.
Please fill in your details below and we will get get back to you with a quotation as soon as possible. Alternatively you can email us with your requirements on sales@kingsdown-uk.com
The Seasonbook
The Seasonbook is a unique publication, unveiling the captivating journey of Kingsdown Nurseries, from our humble inception to where we are today. Discover the artistry behind our seamless collaboration with customers, culminating in the creation and enhancement of Britain's finest gardens. Each page of this masterpiece resonates with inspiration, compelling narratives, and thought-provoking insights that will ignite your passion for horticulture. Don't miss out on this invaluable resource—secure your complimentary copy now and embark on a voyage of discovery!